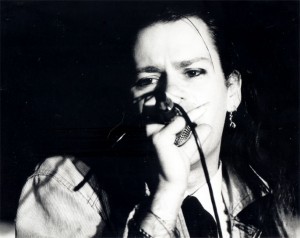 1983… Danny and James get together to experiment and make noise. James liked Metal Machine Music, Danny liked Cabaret Voltaire.
James had a bass guitar and Danny had 2 synths…they made Noise! Then guitarist Mike joined the band…he had pedals…loads of 'em! They linked them up, drum machine to synths – via pedals and through echo chambers then pressed Play! Eureka, they were a Band!
At the time, Danny was working with The Sisters of Mercy and Übermeister Andrew Eldritch took the trio to Bridlington to record the first Salvation single for his label Merciful Release. K.G. Studio was 100 yards from the beach and had already played host to the Sisters. It was snowing and the band were skint! Andrew knew that the band didn't have any money and so, asked to be paid in kind with West Yorkshire's finest stimulants. 3 sleepless nights and the Girlsoul EP was born! The Sisters' connection guaranteed healthy sales and soon the band and Eldritch were back behind the mixing desk; this time at Stockport's Strawberry Studios. 48 channels, all the latest technology! No excuses, they had to sound good!
They recorded 6 songs for a prospective album on Merciful Release but Machiavellian machinations saw it being shelved and Mike decided to leave the band.
Enter Choque and his Technicolor soundscape! His guitar has 12 strings! And he has pedals…even more pedals! He looks great!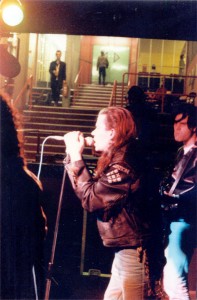 On the 16.03.85, the band played their first live gig at Leeds University's Tartan Bar. Coincidentally, upstairs in the Refectory, the Sisters were weaving their own sonic attack.
Recordings of mystery and imagination followed. Jessica's Crime produced by the Mission's Wayne Hussey and the Seek EP with real drummer Paul replacing the departing Dr Rhythm! The Psychedelic Goth era had begun!
In 1987, James too departed. Ben and Richard joined, transforming the band into a well oiled Rock'n'Roll machine. Live, the band was now in its element. A killer, self-penned repertoire and a clutch of skilfully chosen covers were the ingredients of thrilling and dynamic live shows. Tales of debauchery – many involving peanuts and mayonnaise – are legendary but also, on the whole, unrepeatable. Subsequently, despite ghostly power cuts and thanks to the splicing skills of producer Colin Richardson, the seminal Diamonds Are Forever album was recorded and unleashed on an admiring audience. It sold solidly at home and abroad, breaching the indie charts and swelling the fan base.
As the endless tour rolled on, a dedicated following – the self styled Deep Sea Jivers and Penguin Mosh Squad – spent most of the next five years hitchhiking the length and breadth of the country, seemingly finding Salvation in every sweaty pub, club and concert hall. The live experience was all encompassing: a gig on a boat, a grumpy support band by the name of Blur and an unfortunate clothes-ironing incident involving Fields of The Nephilim!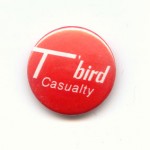 In 1988, the band found a new home on the fabulous Karbon label. The first release – a dynamic, deconstructed version of Donovan's Sunshine Superman – saw Salvation reach a new commercial peak. But the band took a blow as Paul walked out with his kit and Choque, confronting his own Clash of Dreams, left for his mistress, The Hollow Men.
A lesser band may have succumbed at this point but, following some serious auditions, a substantial UK autumn tour began with two new members. Andy M, complete with his collection of vintage pedals, partnered Ben on six-string duties. While beat purveyor George Schultz brought the band solid rhythm and…a touch of burlesque!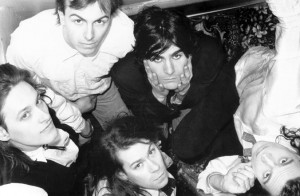 The Julian Standen produced All And More EP, now universally accepted as Salvation's finest recorded moment appeared in 1989. The spring and early summer of that year saw the rumour mill go into overdrive. Sold out shows, national radio play and long deserved critical acclaim fanned the flames.
Razor sharp live shows attracted the record companies and Miles Copeland put his money where his mouth was, signing the band to his IRS label in December 1989.
Andy, unhappy with the new musical direction, made an abrupt exit. Enter Adam (Yes! Guitarist #5!) hauling his not inconsiderable collection of pedals from Suffolk to Leeds. Further recording sessions that yielded a single and an album were interspersed by two successful 25-date UK tours; the first, a major concert Hall tour with The Alarm.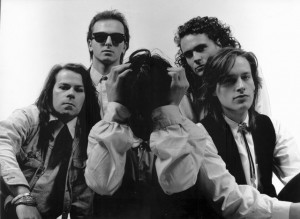 Constant gigging was, nevertheless, beginning to take its toll. Red lights began flashing on 01.03.90 when, after supporting the Mission in Leeds, it was all hands to the van and the band made a mad dash to Manchester for their own show later that same evening! Something had to give and, in mid 1990, the groove machine reached terminal meltdown. Despite great reviews for their IRS debut album, the melody laden Sass, a punishing schedule had stretched personal relationships to breaking point.
In August, the band and Danny went their separate ways. A single release was cancelled, US and UK tour plans were left in ruins and ultimately it signalled the end of their IRS contract. Another singer was recruited but things were never the same and the final curtain soon descended.
Salvation's enduring knack for alternative pop shines through their body of work, showing why they were always a live favourite, casting a little light in the wake of their darker contemporaries. Whether you are an old friend or a curious listener, I hope you enjoy their warped magic.