We are pleased to announce our only date of this year on Friday 1st November 2013 at the Coliseum in Whitby (It's just up from the railway station!) as guests of DV8 at Whitby.

We would say that there will be some special surprises, but that may be tempting fate, as freak accidents, breaking bones, temporary insanity and a trip across the Pentland Firth have all contributed to almost making this show a non starter… so perhaps you'll have to settle for the minor miracle at a wedding in Berlin that made this all possible.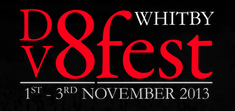 The link below will take you to the details
And there is even a coach laid on from Leeds thanks to Mr Chris DV8 himself, so if you fancy an All Hallows Magical Mystery Tour start clicking with your mouse (or doing touchy things on your screen) below. See you there!
Salvation at DV8fest
Friday 1st November 2013
The Coliseum, Whitby
http://dv8fest.com/