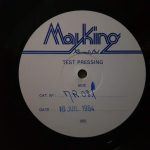 Track Listing:
The October Hour
Jessica's Crime
Burning On
Sea of Dreams
Figurehead
No Return
Personnel:
Daniel Mass – Vocals
Mike Hayes – Guitar
James Elmore – Bass
Doktor Avalanche – Drums
Information:
Catalogue Number:

MR 031

Label:

Merciful Release

Year:

Due to be released March 1985
Run-Out Groove Inscription:
Notes: Debut 6-track mini album, recorded at Stockport's Strawberry Studios with Andrew Eldritch. Only 4 'test pressings' were made at the time and the release was shelved. The album remained unavailable until it was remastered and released in October 2014.