On Friday 28th October 2011 Salvation will be opening up for The Mission at the O2 Academy in Leeds.
On Friday 5th December 1986 at, roughly, 8.45pm I regained consciousness on the floor of a packed Solem Bar in Manchester University Students Union having slipped from a precarious position on a window ledge.
I had just witnessed my first Salvation gig and whilst my predicament was probably more a result of heat, no food and several pints of, probably, Fosters; than that first tantalising encounter with the Princes of Power Pop. Still, I was hooked and so began what has been a long term relationship, replete with all the highs, lows and baggage that comes with such an endeavour.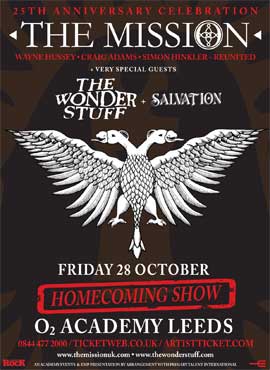 Now, almost 25 years to that day, almost unbelievably, the band are back in the rehearsal rooms knocking together a diamond sharp set to light up the stage of a venue not a million miles from you.
The show itself is a celebration of The Mission's 25th Anniversary and features three quarters of the original line up Wayne Hussey, Simon Hinkler and Craig Adams.
The Wonderstuff will be weighing in as main support and it all promises to be a night that won't be forgotten in a hurry.
Anyone who witnessed Salvation's last outing with The March Violets in 2007 will know that the band pulled out all the stops to make it a memorable performance.
This performance will be no exception with a few surprises up their sleeves and augmented by the fine lighting and PA systems at the Academy, this won't be one to miss.
There are still tickets left, but with the Brixton show selling out they are going fast.
Tickets:
http://www.o2academyleeds.co.uk/event/29580/the-mission-tickets
Also if we get our act together there will be some new Merchandise lines and CDs on sale.
Watch this site for regular updates up to the show day, including some exclusive pictures from rehearsals in the next couple of weeks and timings.
Look after yourselves and hope to see you there.
Eve xx