To coincide with the October tour the band have decided to release the "lost" Salvation album – Clash of Dreams. Produced by Andrew Eldritch and originally slated for release on Merciful Release in March 1985, it dropped off the radar as The Sisters machine gathered speed.
Periodically, for the last 30 years, tracks from Clash of Dreams have surfaced on poor quality bootlegs, both here and in Europe. This release, however, was mastered from the original tapes and makes Salvation's first album available in its purest form for the first time.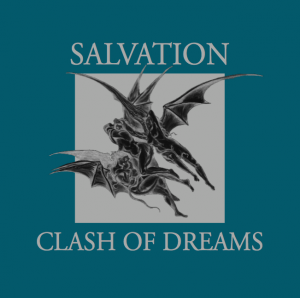 In August 2014, David Beevers, long term Salvation associate, entered the Human League studio in Sheffield and from a range of antiquated recording formats skilfully resurrected the ghost of 1980's Leeds' industrial pop; creating a definitive vision of early Salvation.
At the same time the band entered the recording studio for the first time in 23 years to give an alternate take on a Clash of Dreams track.
The subsequent result is an album consisting of an official release of the Clash of Dreams, the complete Girlsoul EP and a new recording of October Hour.
The album will be available exclusively at the October tour dates for the sum of £10 and if there are copies left after the tour, on the Salvation merchandise site from the beginning of November.
Just a few days to go now – the tension is mounting!
Eve x